About us
When you are craving for kebabs and pizza, you definitely have to visit Turkish Kebabs & Pizza. We are located at Rae St, Belconnen ACT. We have a wide range of Turkish specialties such as Kusbasili, Tavuklu or Roasted Chicken and Pastirmali. Our Turkish Pizza menu includes Turkish Smoked Beef, Fetta Cheese & Spinach, Minced Lamb and Super Vegetarian. For our Meals menu, you can try our Sis Kebab, Kofte, Adana Kebab, Doner Kebab Plate, Chicken Kebab Plate and Mixed Grill. You can also order our Falafel Roll, Cheesy Garlic Bread and Lamb Kebab. You can easily order online for takeaway and delivery by clicking on the Order Online button.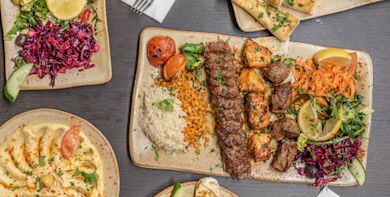 Reviews
Christine
"Wasn't expecting it to arrive so early! The food was delicious and hot! Thanks guys, will be ordering again!!"
5/02/2020
Tony
"Great food. Thank you."
29/01/2020